It's 2017 and it's starting to seem like the year of exposing racism, am I right? Well let's sit down and have some tea, shall we? The tea is that there is blatant racism in the gay community and it needs to be addressed. Both members and non-members of the LGBTQ+ community see past the racism in the gay community. As I'm sure there's the same racism in the straight community—if they have one—but that's not the case here, so let's move forward with some more tea.
The word "preference" is often misused by members of the gay community. For example, Grindr. Yes, I've had my fair share of Grindr and it's sad to say some guys are blatantly racist and don't even know it. Owen Jones from The Guardian writes that some white LGBTQ+ members have a "prevailing attitude" that they cannot be a "bigot" when they too are a part of an oppressed group. It's like that one guy on Grindr that has no profile picture that will have in their header or biography "White only" or "no blacks or no Asians" etc.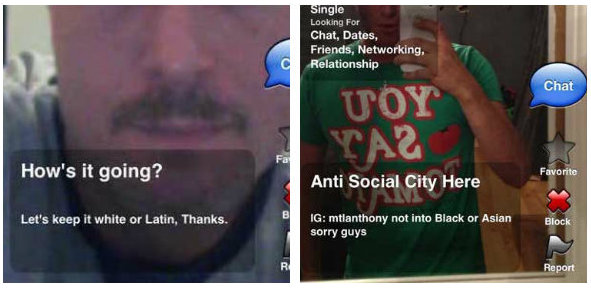 Literally like the old 1950 signs that were everywhere back in the day. Then, when you call them out for it they want to say it's they're not racist; it's their "preference". Then goes into their Grammy speech that everybody has preferences, and etc.
No boo boo, it's racist. So do better. This racism only makes the gay community a double minority because we aren't even giving each other chances or accepting one another. But, good thing I'm thirsty because we have more tea to address.
We need to address these gay stereotypes we have being thrown around. Assuming that just because I'm black and six- feet tall, I'm an automatic top with a very nice gift?  Then there's that one creepy guy on Grindr again with no profile picture that will only chat and ask you ONLY ask you questions like "how big are you?" "are you a top or bottom" while already assuming I'm a top. Black men in the gay community are sometimes viewed as chew toys because of these creepy racist stereotypes.
There's also those comments like "I've never been with a black guy" or "so, is it true? is it really big down there? like come on, way to make a normal conversation go completely left. These stereotypes perpetuate a divide within the community, which is the farthest of what we need; we already have the whole republican party telling us we don't deserve rights.
The gay community as a whole needs to come together on this and start talking about this. We need to not tolerate this racism and educate on how to approach different people. We need to give each other a chance at least because we have so many haters that don't think we deserve a chance. This blatant racism and stereotyping needs isn't cute, and it's not fair.  We're a community, let's start acting like by starting with this.